MycoWorks expands to address the soaring need for high-end leather alternatives
South Carolina Ribbon-Cutting Marks the Start of Industrial-Scale Production of Fine Mycelium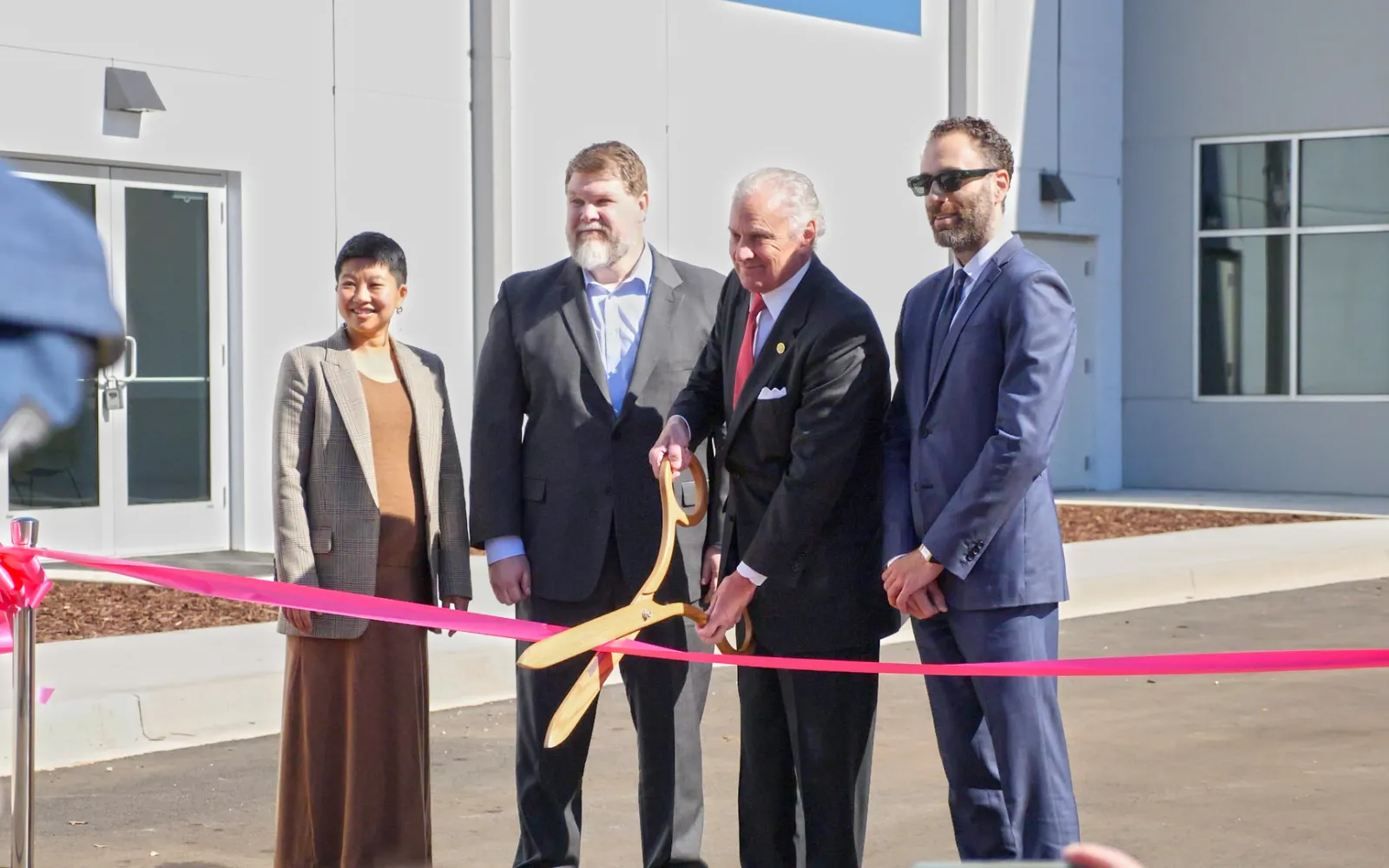 If there were a plentiful supply of material that looks, feels, and behaves like full-grain or top-grain leather — but wasn't made from animal hides — it wouldn't just be a huge win for animal welfare and the global climate. It would help support the growth of industries that are strained to source enough high-quality leather from traditional sources.
The promise of fine mycelium — tight networks of fibers formed by fungi through a proprietary process — as a more sustainable and eventually abundant alternative to leather is part of what led DCVC Bio to invest in bioma­te­rials company MycoWorks in 2019. The other key reason was the diverse and talented team brought together by the founders and CEO. From our very first visit we've been impressed with the company's dedication to quality first. Last week, I watched the promise of abundant, high-quality fine mycelium leather grow toward reality at the ribbon-cutting ceremony for MycoWorks' first full-scale manu­fac­turing facility in the town of Union, SC.
With South Carolina Governor Henry McMaster in attendance — along with a panoply of other government officials, community leaders, and MycoWorks partners and investors — the company's leaders proudly showed off the 136,000-square-foot facility, where they're growing mycelium and making it into Reishi™, the company's proprietary leather-like material.
It's the world's largest mycelium production facility, and every scrap of material the company will make there has been pre-sold to customers such as luxury design house Hermès and furniture maker Ligne Roset. But while most coverage of the factory opening under­stand­ably focused on the still-new idea of ​"leather from mushrooms," and on the nearly 400 new jobs MycoWorks is creating in South Carolina, the company is also creating a ​"fungus aware" ecosystem in South Carolina that comes from outreach and partic­i­pa­tion of MycoWorks people in the local community.
As leather alter­na­tives gain visibility, it is important to remember that not all leather alter­na­tives are created equal. Entre­pre­neurs are advancing diverse forms of vegan or plant-based leather today. Some are made from polyvinyl chloride, and others are derived from plant sources such as pineapple leaves, prickly pear cactus, apple pulp, hemp fiber, or banana stems — but many of these plant materials must be mixed with polyester or polyurethane resin to provide durability. MycoWork's peer company Modern Meadow, meanwhile, is working with chemical giant BASF to create an animal-free substrate called Bio-VERA that mixes proteins with recycled plastic waste and bio-based polymers. But MycoWorks' Reishi is the first luxury leather alternative that's not plastic. It's made from a living material that breathes and functions with the familiar and luxurious feel we've come to expect from leathers. This attention to quality and function has been the central focus driving everything MycoWorks is accomplishing.
Demand for luxury leather is growing far faster than the supply. According to The Business of Fashion, fashion brands trying to comply with decar­boniza­tion commitments and climate regulations will face a 133-million-ton shortfall of low-impact raw materials by 2030. Companies like Hermès are interested in Reishi not just because they know some consumers prefer non-animal materials, but because they can't source enough high-end leather. And that's to say nothing of carmakers, shoe manu­fac­turers, and other large-scale users of leather.
MycoWorks is the first company managing to make any form of leather alternative on a large scale. The South Carolina plant is already turning out big, beautiful sheets of Reishi, and the company was able to build the facility thanks to the confidence of an extensive group of customers and investors, who know that MycoWorks is the real deal.
It's great to see MycoWorks bringing both high fashion and biotech­nology to South Carolina. There's also an important climate-policy aspect to MycoWork's story: researchers estimate that every square meter of bovine leather produced adds 65 to 75 kilograms of greenhouse gases to the atmosphere, with three-quarters of that stemming from cattle raising and the tanning of raw hides. The mycelium used to make Reishi uses sawdust and other low-value wood waste as its primary food source, and the material's overall carbon footprint is about 8 percent of that of bovine leather.
But when it comes to the actual leather economy, all of these details are peripheral. MycoWorks stands to succeed because it can make a living, non-plastic, leather-like material at industrial scale, and because it's quickly winning acceptance among customers who have an insatiable need for it. Like Tesla Motors before it, MycoWorks is selling its product first to luxury buyers based on performance, but will soon scale up to the volumes needed by the larger consumer market. And, also like Tesla, no one has ever done this before — which is why we at DCVC Bio are gratified to be a part of their story.
Dr. Kiersten Stead is Managing Partner of DCVC Bio.